One thing I remember about my first trip to Granada is the tapas culture and the amazing food the city has to offer. During my first evening there I met with a local girl in one of the tiny squares of the old town, sat down at a terrace and ordered a glass of wine. With it, the free tapas arrived. The more we ordered, the better the tapas were.
Since then, I have been to Granada many times. I was last there in August, when my friend Sandra visited me from the Netherlands. We went there for a day trip and all we did was literally just eat our way around the city, going from tapas bar to tapas bar. But my love affair with the tapas in Granada has no end, so yesterday I went back to experience the best Granada Food Tour run by the Spain Food Sherpas.
This time I chose to spend the night in Granada and not rush back to Malaga straight away, so I booked the four stars hotel Saray. If you stay longer in the city, check out my two days in Granada itinerary. It's incredible how cheap the hotels are in Granada and how much value you get for your money. I was very happy with my room at hotel Saray, which was only 60 euros for the night, with parking included in their underground garage (which is usually 18 euros). I had a beautiful room at the 6th floor, with an excellent comfortable bed and beautiful views towards the snow-covered mountains. You can read the reviews of Hotel Saray on Tripadvisor or book directly on Booking.com
The Tapas Culture In Granada
Granada is one of those few places in Spain that still keeps the tapas tradition, where a plate of food is served for free, when you order a drink. They vary from place to place, but from what I've noticed, the more drinks you order, the better the tapas are. During my last evening in Granada I stopped by La Cuchara del Carmela, which was close by to my hotel, and ordered a glass of wine. Immediately I received a large plate of fried cod with lemon and salad.
Granada is a city where four different cultures blended together over the years and influenced the local gastronomical scene. Tapas in Granada is not only food, but a way of life. Every evening, no matter how the weather is, the city's bars and restaurants will get filled with locals meeting their friends or family for tapas. Locals very rare pay for tapas, they usually eat whatever the waiters bring with their drinks, so it's always a surprise.
As a foodie, I am always interested in the local flavours and there is no better way to discover them than through a food tour run by a local. Spain Food Sherpas was a perfect choice to take me on a Granada food tour around the city and show me both its traditional and its modern flavours.
The Granada Food Tour:
I opted for the evening tour, so I also got the chance to see Granada all dressed up and ready for the upcoming winter holidays. I met Laura, the guide for the evening, very close to Plaza del Campillo, a very central location in Granada. We got along straight away, noticing we had quite a few things in common like languages we spoke and places we have both been and lived.
The group was very small, we were 4 in total, which I liked as it gave everyone the chance to interact better and get all their questions answered. This Granada food tour didn't take us to the touristy parts of the city but to the places where locals actually go out for tapas or to buy their food. I didn't hear English at all in any of the places we stopped at to try the local tapas.
The Spain Food Sherpas is run by local residents of Granada who are very enthusiast and love their city to bits. Laura was so knowledgeable and during the tour she gave us so many other suggestions on where to find other best food in Granada. For example, the following morning I went and had breakfast at Mummo, from her recommendations. A tiny local bar full of locals, with the most delicious jamon and tomato tostada which was only 1.7 euros!
Their food walking tour in Granada is not only about the best dishes but also about the city itself and its rich history.
Chocolate at Abuela Ili
We started our tour directly with dessert, so our first stop was at Abuela Ili, a tiny artisan chocolate store just off Paseo del Salon. There, for almost half a century, the family of Abuela Ili makes chocolate using natural ingredients from the Pampaneira – a small mountain village in the Sierra Nevada mountain range. They import their cocoa from South America and mix the highest quality local ingredients to create new chocolate flavours that will take your taste buds through a journey of sensations.
One of the most intriguing varieties I tasted was goat's cheese white chocolate. I also tried for the first time the 100% dark chocolate and wow, that's strong! Other favourites were the banana milk chocolate, the coconut milk chocolate, the dark lime chocolate and the pepper dark chocolate.
Besides chocolate bars, at Abuela Ili you can also find hot chocolate, pralines and cocoa beer.
Jamon Tasting at Iberica
Even if you haven't yet been to Spain, you have probably tried jamon – the most famous Spanish ham. A couple of years ago, during a food tour I did in London, I have learned about the differences between jamon and what I needed to know before buying it. And at Iberica, Ivan has confirmed the same things.
There are different types of jamon in Spain, depending on how the pigs are fed and where do they grow. The most common (and cheapest) jamon you will find everywhere is the Iberico – and you can recognise it by the white trotter of the pig's leg. These animals are feed grains and grown in farms. The iberico ham is cured for 24 months and you can see it in stores with a white label.
The finest type of Spanish ham is the jamon iberico de bellota, which is recognisable by the black trotter of the pig's leg and by the red or black label it comes with. This type of jamon comes from free-range pigs that roam free around oak forests and eat exclusively acorns. They are pure-bred Iberian pigs, with a distinct flavour because of their diet and exercise. The meat it's cured for 36 months. Depending on the ancestry of the pig (which is written on the label), a leg of jamon iberico de bellota can easily cost 1000 euros!
Most of the jamon iberico de bellota from Spain comes from the North of the country, close to the border with Portugal.
Ivan carefully carved three types of jamon for us to taste and paired them with a glass of apple wine. We tried the jamon serrano, the iberico and the iberico de bellota.
Besides the jamon, the small shop also sells all sorts of local delicacies, like cheese, sauces or olive oil. I left not only with some jamon but also with a jar or black aioli, one of green olive tapenade and a bottle of Vertijana 3 – an award winning local coupage of temporanillo, cabernet sauvignon, merlot and syrah. You can tell I'm a big foodie, right?
Cheese and olive oil at Andalucia Delicatessen
Olive oil is one of the most important ingredients in the Spanish cuisine. Not only in cooking with but also in tasting on its own. There is no Spanish breakfast without generous amounts of olive oil on top of tostadas with tomatoes or jamon. Or simply just olive oil and salt.
And no wonder, as driving from Malaga to Granada, the road passes through hills over hills covered with olive trees.
There are different types of olive oil though, some used more for cooking and some for tasting. At Andalucia Delicatessen we got the chance to try three special locally produced olive oils, including Autentico, which was awarded with a gold medal this year at the NYIOOC World Olive Oil Competition from New York. Autentico is a very intense olive oil with a complex flavour which develops inside the mouth: it begins with fresh and strong fruity flavours of green apples, becomes smooth and finishes with a spicy kick. It's a really special olive oil that it's meant to be savoured raw, on toast or in salads. Did I buy a bottle to take home? Yes, I did!
Alfredo, the owner of Andalucia Delicatessen is very knowledge about the items in his store and he was very eager to offer us more local organic products to taste, such as gazpachio (a cold tomato soup) made only with eco tomatoes and herbs, and the cinnamon spiced vermouth produced no further away than the Mercado San Agustin, by La Picateria (they have some delicious olive & seafood pinchos in the market, if you have time to pass by).  And yes, I bought both to take home.
We also tried an array of different artisanal cheese here, from fresh goat's cheese to matured sheep's one.
Fruits and Nuts at Oliver
Located in Plaza de la Trinidad, Oliver is one of the oldest shops in Granada, being in business since 1850. Whilst the shop is quite small, the entire counter is filled with bags of different locally produced nuts and dried fruits. These days they even have a Christmas mix, with nuts and chocolate pieces.
In Spain, people do eat a lot of nuts, especially in the evening, when they are watching tv. At Oliver we tried salty peanuts, caramelised nuts and fresh pistachios.
Gourmet Tapas at La Milagrosa
Our next stop was La Milagrosa, a modern Spanish tapas bar & restaurant with an award-winning chef.  Even if chef Nicolas Sánchez Chica is very young, he won the "Tapas de Granada" competition in 2017 with his interpretation of a lamb taco. All the ingredients used at La Milagrosa are sourced from Granada and the nearby Sierra Nevada mountains.
At La Milagrosa we had the pleasure to taste two of chef's Nicolas Chica tapas, an oxtail croquet with a poached quail's egg on top and the marinated artichokes with a mustard and honey sauce.
I love Spanish croquets and I order them quite often when I go out for tapas. However, it's always a hit and miss, depending on their filling and how they have been cooked. Nobody likes a soggy and oily croquet!
Needless to say I was eager to try the oxtail croquet of chef Nicolas Chica, and oh, it did not disappoint. The interior of the croquet was soft whilst the exterior perfectly crunchy. The quail's egg on top balanced the sweet flavour.
I have tried artichokes for the first time last year, when I spent a month in Tuscany. I kept hearing about them in American cooking shows but as they are not so popular in my country, I never justified the high price of buying jarred ones. But oh my, what a revelation it was when I had my first pasta with artichoke sauce! And how sorry I was for not trying this amazing vegetable earlier!
The marinated artichoke was served on a rice cracker and topped with chives and a honey & mustard sauce. And the taste was fabulous, an explosion of flavour and freshness with each bite, with hints of sweet and spicy from the creamy sauce. Truly an outstanding vegetarian tapa I could eat over and over without ever getting enough of its taste.
I enjoyed the tapas together with a glass of Ribera del Duero wine, crisp and with a complex flavour.
Traditional Local Flavours at Chikito
Our last stop of the day was Chikito, Federico Garcia Lorca's favourite local in Granada and originally, Café Alameda – opened in 1909. During the past century this restaurant was a very popular spot for artists to gather around and have drinks. In the middle of the restaurant you can still see one of the original columns dating from when Chikito was still Café Alameda.
Today the restaurant is owner by an ex Spanish football player, but the classic décor and the traditional recipes are still bringing crowds of locals in every evening.
At Chikito we tried three traditional local tapas that you can only find in Granada. The first one was the Remojon Granaino – a cold salad with pieces of cod, onions, olives, oranges and pomegranate seeds. Not only that it looks beautiful, but it was also delicious. The combination of ingredients might sound strange and to be honest if I read them on a menu this dish wouldn't be my first choice to order, but I'm glad I had the chance to taste it. It was absolutely delicious, with different flavours of sour and sweet bringing this dish together.
The second tapas we had was the Asparagus casserole, a thick soup with jamon and almonds. This is said to have been Lorca's favourite dish. I liked the combination of sweet asparagus with salty ham and the almond crunch.
The last dish of the evening had to be dessert! And what other than the traditional dessert of Granada, the piononos? Practically an upside down sponge cake, pionono translates as "the 9th Pope" and it's a desert that was created to honour Pope Pius the IX's for having proclaimed the Immaculate Conception doctrine.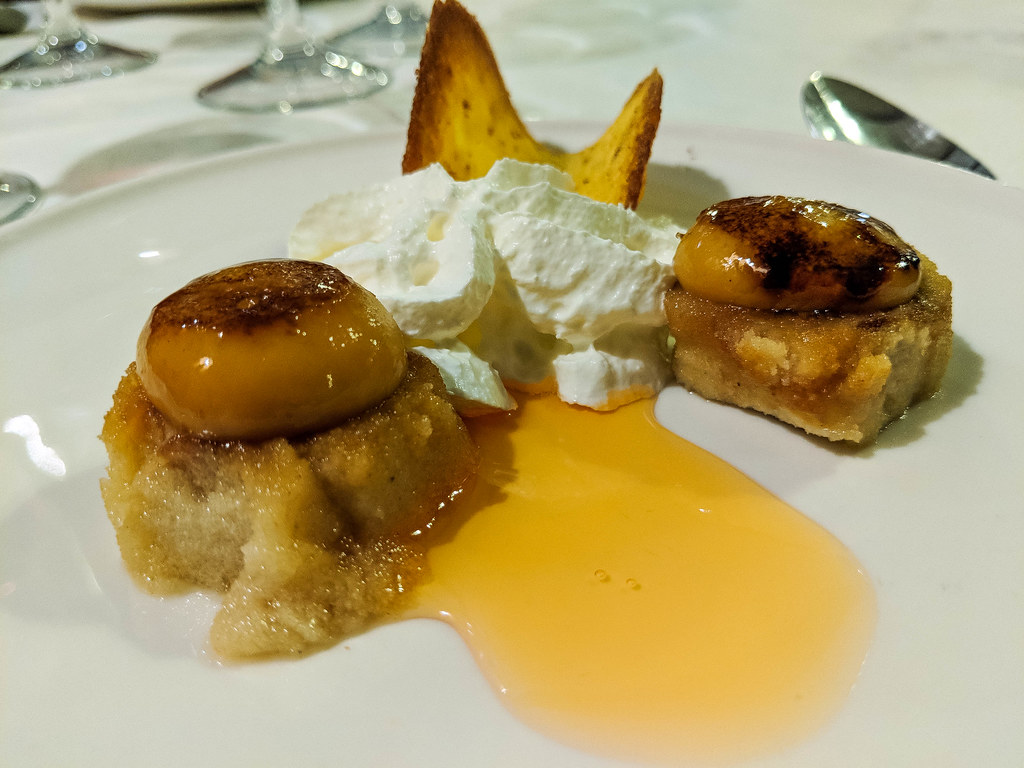 Pionono is fermented in a sweet syrup and served with cream and a biscuit, which is meant to resemble to Pope's hat. Filled with cinnamon, it's a delicious dessert.
If you want to learn more about this food your head over the Spain Food Sherpas website but also watch the video I created below:
Liked it? Pin it!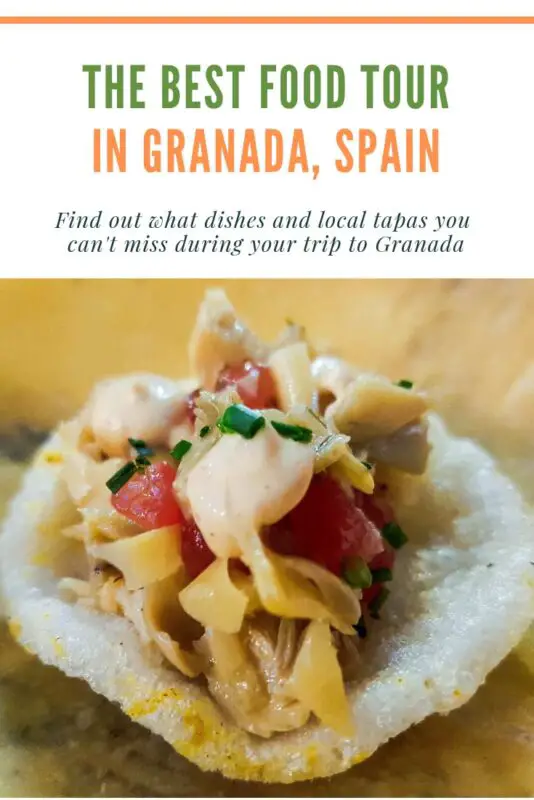 Disclaimer: Please note that this post has been written in collaboration with Spain Food Sherpas and I was their guest on the food tour. However, all the opinions and thoughts in this article are my own.