Gambas pil pil is an Andalucian favourite when it comes to tapas. The sizzling prawns in a delicious garlic and chili sauce never misses from a respectable tapas bar's menu.
It is unsure where in Spain the gambas pil pil recipe has originated from. Both the Basque County and Andalucia are taking credit for it.  
Gambas Pil Pil translates as chili garlic prawns which are served in a tapas ramekin, sizzling. It is often usual to burn your tongue the first time you taste the pil pil prawns, for a simple reason: the dish is served straight from the pan, with the oil still sizzling, but its smell is so powerful that you can't resist taking a bite whilst it is still hot.
This gambas pil pil recipe can be served as tapas, or as an appetizer which you can make whilst your guests are at the table. The prawns pil pil recipe takes less than 10 minutes to make!
What is pil pil?
Pil pil is a simple sauce that originated in the Basque County and it is now widely used in the Iberic Peninsula. The pil pil sauce is made out of olive oil, garlic and chili peppers, and it is used mostly in fish and seafood dishes. The name of pil pil comes from the bubbling sound the oil makes in the pan once it gets hot.
What Prawns to Use for Gambas Pil Pil
As Gambas pil pil is such an easy fish dish to make, using only four main ingredients, it is very important to choose good quality, fresh prawns. The bigger the prawn, the juicier and tastier this dish will be. Remember to use uncooked prawns for this gambas pil pil recipe.
To make this dish I bought fresh king prawns from my local fishmonger. As seafood goes bad quickly, it's important to buy the prawns on the day you plan to cook them, and not before. You can make this recipe with frozen prawns as well, but the taste won't be the same. I highly recommend fresh prawns. Here in Spain I know that the seafood I am buying at lunchtime was still swimming in the sea during the early hours of the morning.
How to Clean the Prawns
The most difficult part of making this prawns pil pil recipe is actually peeling the crustacean. It can get messy, so my advice is to use a deep bowl. In total you will need three bowls: one for the prawns, one for the shells and one for the clean prawns.
First, put the prawns in a colander and rinse them in cold water to wash away all the impurities. Throw away any slimy or discoloured prawn. Hold the prawn in one hand and with a firm movement pull the head away. The, put your finger underneath the shell and lift it gently, going round the prawn twice. It's ok if it breaks halfway through, just repeat the same movement. This will get rid of the shell without bruising the gentle body of the prawn. Finally, pull the tail gently, which will come out easily with the bottom part of the shell. Some people prefer to leave the tail on, for aesthetic. It's up to you.
Also, some people prefer to buy prawns which have already been peeled. I wouldn't recommend this, especially not for this recipe. Removing the shell gets rid of all the oil on the prawn, which contribute to the crustacean's rich flavour. By removing the shell and not cooking them straight away, you are sacrificing a lot of flavour.   
How to Make Gambas Pil Pil
To make the gambas pil pil recipe you will need four main ingredients: prawns, garlic, chili and paprika. From your pantry you will also need olive oil, salt and pepper. As this is a very fast recipe, make sure you have all the ingredients handy before you start cooking.
Firstly, peel the prawns, rise them with water and then tap them dry with a kitchen towel. Season with salt and pepper and put aside. In a deep pan heat a quarter cup of olive oil until it's sizzling, then add the garlic. For my 300 grams of prawns, I used two big cloves of garlic. Let it fry for a minute, then sprinkle the chili on top. You can use any type of chili you like, fresh or flakes. For this recipe I used the flakes because I didn't have any chili peppers handy. Use whichever chili you like best. Once the garlic starts to change color, add the paprika. Make sure you don't burn the garlic, as it will become bitter and ruin the taste of the dish.
Add the prawns to the pan and cook them for about one, one and a half minutes for each side. You will know to turn them when they change their color from grey to pinkish.
Once ready, transfer the prawns from the pan to a plate and sprinkle some chopped parsley on top.  
Usually, the prawns pil pil are served in an individual clay pot, tapas style. However, I did not have one available when I cooked this chili prawn recipe, so I just used a normal white plate.
Serve the prawns pil pil with crusty bread and a glass of white wine. The sauce is fantastic to dip the bread in. Enjoy!  
How to Make Gambas Pil Pil – Delicious Spanish Prawns Pil Pil Recipe
Course: Tapas
Cuisine: Spanish
Difficulty: Easy
Ingredients
300 grams of king prawns

2 big cloves of garlic

1 chili pepper without seeds/ chili flakes

paprika

parsley

1/4 cups of olive oil

salt

pepper
Directions
Clean and peel the prawns. Season with salt and pepper, and set aside
Heat the olive oil until it is sizzling. Add the garlic.
After one minute, add the chili/chili flakes.
When the garlic starts to change color, add paprika to taste (1-2 teaspoons). Be careful not to burn the garlic.
Add the prawns and fry them for 1-1.5 minutes on each side.
Transfer the prawns on a plate, pour the infused oil on top and sprinkle some chopped parsley over the finished dish.
Serve whilst it is still sizzling, with crusty bread and white wine.
Recipe Video
Notes
Only use fresh prawns for this reicpe.
Liked it? Pin it!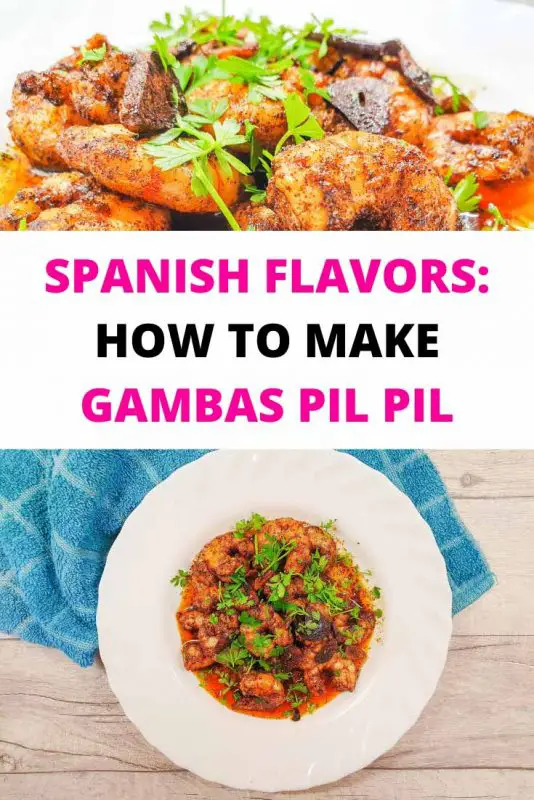 Disclaimer: Some of the links on this website are "affiliate links." This means that if you click on the link and do a purchase, I will receive an affiliate commission at no extra cost to you. This helps me keep my website running and continue to share my travelling knowledge with you. I thank you for booking your flights or hotels using the links on my website. Regardless, I only recommend products or services I use personally and believe will add value to my readers.