There are lots of things to do in Huelva in 2 days that will give you a flavour of the history and culture of this charming port city. 
Huelva is a 90 minute drive from Seville and sits at the mouth of the River Odiel. It borders both Portugal and the Atlantic Ocean and the warm, mild city offers a range of attractions to suit all travel interests and budgets. 
Plus, if you have an interest in maritime history, Huelva's links with Christopher Columbus makes this an ideal destination for you. 
Spend your days exploring fascinating museums, picture perfect churches, historical and natural sites and dine on exquisite fresh seafood; all whilst enjoying a warm welcome from choqueros (Huelva's residents). 
So, what are the best things to do in Huelva in 2 days? 
How to Get to Huelva
By plane:
The nearest airport to Huelva is the Seville Airport (SVQ), which is located approximately 100 km away. From the airport, you can take a bus or a train to Huelva. To get to the train station, from Seville Airport, you have to take the local bus to Santa Justa railway station, 15 minutes away.
By train:
Huelva has a well-connected railway system, with trains running to and from major cities across Spain. If you are coming from Madrid, you can take a high-speed train (AVE) that takes around 3 hours. If you are coming from Seville, the journey takes around 1.5 hours.
By bus:
Huelva is also well-connected by bus, with several bus companies offering services from major cities in Spain. The journey from Seville takes around 1.5 to 2 hours, while the journey from Madrid takes around 7 to 8 hours. The largest bus company in Spain is ALSA, which runs frequent buses that connect cities all over the country.
By car:
If you prefer to drive, Huelva is easily accessible by car from major cities in Spain. From Seville, the journey takes around 1.5 hours, while the journey from Madrid takes around 5 to 6 hours. If you are planning to hire a car from Seville Airport, check out Holiday Extras, to avoid being scammed by an offer of 2 euros a day (they are never true!).
Once you arrive in Huelva, there are several transportation options to get around the city, including buses, taxis, and rental cars. Huelva is a relatively small city, so it is also easy to explore on foot or by bike.
Day 1:
Visit Casa Colon
Start your day with a short visit to Casa de Colón (or Columbus House) on Alameda Sundheim where the famous explorer planned his expeditions. 
The house opened to the public as Gran Hotel Colon in 1883. The building's stunning façade features intricate details and beautiful forged steel balconies, while the interior boasts high ceilings, marble floors, and beautiful decorations. The building resembles different architectural styles, from Art Nouveau to Latin American inspiration. 
Today the beautiful building is a cultural centre and a conference centre hosting different events during the year, such as the Latin American Film Festival. The art centre at Casa Colon has temporary exhibitions featuring the art of contemporary local and international artists. This emblematic building is built around gardens landscaped by a German architect, to include exotic plants and trees. 
Check Out Plaza de Toros 
The Plaza de Toros bullring was originally built in 1901 and could seat up to 8,000 spectators. 
After falling into disrepair, it was restored and reopened in 1984 and still operates as a bullfighting ring today. Throughout the year, the Plaza de Toros hosts various bullfighting events, including corridas (bullfights), novilladas (fights between young bulls), and rejoneos (fights on horseback). These events are a major part of Andalusian culture, with many locals and visitors coming from across the region to witness the spectacle.
As someone who is against animal cruelty, I don't recommend attending such shows, but I do understand their cultural role in Spain. The Plaza de Toros also has a museum, which I recommend visiting rather than taking part in a corrida, to learn more about the history of bullfighting in Spain and why it is still practiced.  
Aside from bullfighting, the Plaza de Toros is also used for other cultural events, such as concerts, festivals, and sporting events. In recent years, the arena has hosted international music acts attracting crowds from all over Spain and beyond. 
See the Muelle del Tinto 
A Site of Cultural Interest, the Tinto Wharf on the River Odiel used to be a dock for the Río Tinto mining company. Constructed in the early 20th century, Muelle del Tinto was originally built to support the local mining industry, which relied heavily on the transportation of minerals and other goods by sea. Over time, the pier became a hub for maritime activity in Huelva, and today it remains an important part of the city's history and culture.
Today the 1,165 metre long unused dock is a popular spot for a seaside stroll and for fishing. It is especially romantic at sunset. Tourists can walk on both the lower and upper levels but for the best views, brave the upper level. 
Stroll Along Barrio de Reina Victoria
Barrio de Reina Victoria is a charming, quirky neighbourhood full of Victorian colonial architecture. 
The colourful Site of Historic Interest dates back to the early 20th century and feels like a piece of suburban England has been dropped into Andalucia. Named after Queen Victoria Eugenia, who visited Huelva in the early 20th century, Barrio de Reina Victoria is home to a mix of traditional and modern buildings, creating a unique and eclectic atmosphere. 
One of the highlights of Barrio de Reina Victoria is the Plaza de la Merced, a small square that serves as the heart of the neighborhood. Here you can find plenty of cafes and restaurants, as well as a playground for children. 
See the Monumento a la Fe Descubridora
The 'Monument to the Discovering Faith' is in Punta Sebo (four kilometres from the city centre) at the meeting point of the Odiel and Tinto Rivers. 
This enormous statue is also known as the 'Christopher Columbus statue' but the statue is not an image of the explorer. It is an unknown Franciscan friar leaning on a Tau Cross, allegedly from the nearby Rábida Monastery. 
The 37 metre high statue faces west and is dedicated to the sailors from the voyage. 
It was built with stone from Niebla and donated to Huelva by the United States in 1929. Bas reliefs on the pedestal represent the four continents and the indigenous cultures of the Americas. 
Relax on the El Espigon Beach 
Take a break from sightseeing and relax on Playa El Espigon (near Juan Carlos I Dam) which is part of Marismas del Odiel Nature Park.
This 3 kilometre long sandy beach never feels crowded and is a perfect spot for a bit of sunbathing and a refreshing dip in the sea. 
Visit the three most impressive churches in Huelva:
Catedral de la Merced
The 18th century Catedral de la Merced is easily identifiable by its intricate colonial style belfrys. The Catedral de la Merced is an excellent example of Baroque architecture, characterized by its ornate façade and grand, spacious interior. On the inside it has intricate carvings and statues, beautiful stained-glass windows, and an impressive altarpiece, which features a statue of the Virgin Mary and Child.
Iglesia de San Pedro
The 16th century church of San Pedro is the oldest church in Huelva. It was built on the site of an old mosque. 
The church is an interesting mix of Gothic and Mudejar styles (influenced by Islamic art). It has three naves and a pretty Baroque tower with a blue and white tiled spire. 
Santuario de Nuestra Señora de la Cinta
This 15th century church is perched on a hill three kilometres north of the city next to the El Conquero viewpoint. It is worth visiting just for the fantastic panoramic views of  Huelva. 
The church was originally built in a Gothic style and has three brick built naves with  Mudejar horseshoe shaped arches. 
Day2: 
Start Your Day With Bird Watching at Marismas del Odiel
Marismas del Odiel is a bird watcher's paradise. The ecologically diverse UNESCO Biosphere Reserve is a resting spot for migratory birds. Covering an area of over 7,000 hectares, this expansive wetland area is home to a diverse range of plant and animal species, making it an important ecological site in the region.
The Marismas del Odiel is situated where the Odiel river meets the Atlantic Ocean, creating a unique ecosystem of salt marshes, tidal flats, and estuaries. This diverse landscape provides a vital habitat for a wide variety of bird species, including flamingos, herons, egrets, and ospreys, making it a popular destination for birdwatchers and nature enthusiasts. There are several trails around the park, with observation towers from place to place, for bird spotting.
In winter, up to 2,000 pink flamingos gather on the salty tidal marshes and there is a large colony of Spoonbills (30 % of Europes' entire Spoonbill population). You can also see herons, harriers and cranes so don't forget your binoculars!  
Follow the Ruta Colombina to Palos de la Frontera 
The 8 mile Ruta Colombina incorporates key locations in the story of Christopher Columbus and his infamous expedition. It starts in Huelva and ends in Palos de la Frontera, where Columbus set sail on his first voyage to the Americas. The town is filled with historic landmarks and beautiful architecture, including the Church of San Jorge, the Town Hall, and the Monument to the Discoverers.
In addition to the Muelle de las Carabelas, the route encompasses several important historical locations. 
You can visit the Monastery of Santa María de la Rábida where Columbus lived with his son for two years whilst planning his voyage and sourcing financing. You can still see the 'Virgen de Los Milagros', to which Columbus prayed before embarking on his trip. 
When you arrive in Palos de la Frontera you can see the village well, La Fontanilla, from where water was drawn to stock Columbus' ships.
Explore the Casa-Museo de Martín Alonso Pinzón, the 15th century birthplace of the Pinzón brothers who helped Columbus in his preparations. The museum is packed with artefacts about the historic voyage. 
Visit the 14th century Iglesia de San Jorge from where the royal decree ordering the provision of ships to Columbus was read out in 1492. 
The Ruta Columbina is an easy self drive from Huelva but it can also be done by public bus from the city centre. 
Visit the Muelle de las Carabelas Exhibition 
The Muelle de las Carabelas Museum (Caravel Dock Museum) features an exhibition centre and a mediaeval quarter. Don't miss the 30 minute film telling the story of the expedition from the point of view of the sailors. 
Caraval Dock Museum is best known for its replicas of the three boats which sailed on Columbus' expedition when he 'discovered' America.  – La Niña, La Pinta and La Santa María. 
The replica boats were built for the 500th Centenary of the voyage in 1992. After seaworthy trials, the small boats actually completed the original route of Columbus' world changing voyage. The ships are open to the public and visitors can explore their decks and learn about life on board during Columbus' historic journey.
Don't Miss the Mediaeval Santa Clara Monastery
If you like architecture, the 14th century Santa Clara de Moguer Monastery is one of the best examples of Mudejar churches in Andalucia. 
It is where Christopher Columbus prayed on the night he returned to Huelva in 1493. 
Liked it? Pin it!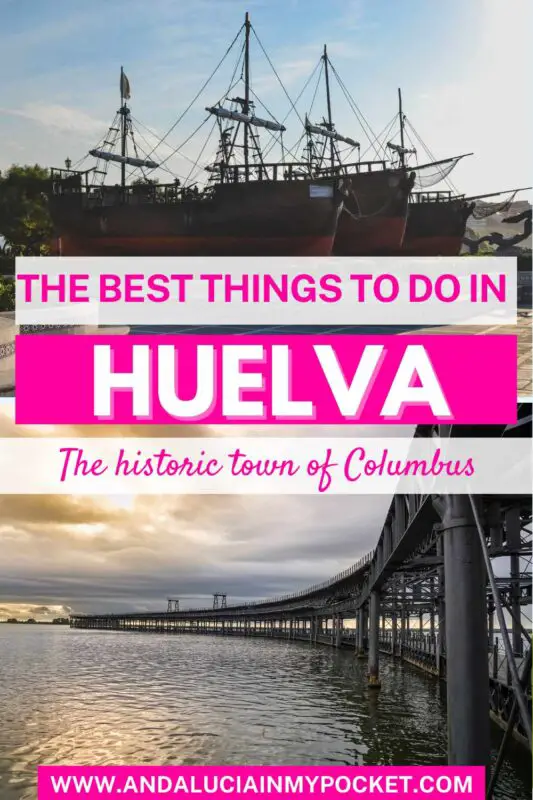 Disclaimer: Some of the links on this website are "affiliate links." This means that if you click on the link and do a purchase, I will receive an affiliate commission at no extra cost to you. This helps me keep my website running and continue to share my travelling knowledge with you. I thank you for booking your flights or hotels using the links on my website. Regardless, I only recommend products or services I use personally and believe will add value to my readers.