Sevilla, the capital of Andalucia, is one of the most beautiful must see cities in the region. There are so many travellers coming to Seville searching for a cultural visit, a break in the sun, or simply a new city to explore. In this article I will provide you with a complete guide on how to get from Sevilla Airport to Sevilla city centre. We will cover all available options, private transfers and public transport, and help you choose the best transportation for your needs and budget.
How Far is Sevilla from Sevilla Airport?
Seville Airport is just outside the city limits, approximately 10 kilometres away from the centre of Seville. It takes around 20 minutes to travel between the Sevilla Airport and the city centre by car, and 35 minutes by bus.
There are several options available for travellers to Seville who are looking to travel from the airport to the city centre, including taxi, private and shared transfers, and public transport.
How to Travel From Sevilla Airport to Sevilla?
By Taxi
The easiest and fastest way to travel from Sevilla Airport to Sevilla city centre is by taxi. The journey from the airport to the centre of Sevilla takes around 20 minutes, and taxis are readily available at the taxi rank in front of the main terminal of the airport.
The trip from the airport to the centre costs 23 euros during the day, and 25 euros at night, between 9AM and 7AM. There is an extra cost that is applied on big holidays such as Easter or Feria de Abril, taking the fare to 31 euros. Prices are fixed but there are extra supplements for additional luggage or pets – There are no extra charges for guide dogs .
There are several taxi companies that are allowed to operate at the Sevilla Airport. You will recognise them by their colour, white with a yellow stripe on the back doors.
By Private Transfer
If you are travelling with a larger group of friends or family, or if you have heavy luggage, you may wish to book a private transfer ahead of time. The advantage of a private transfer is that the driver will be waiting for you with a name card in the arrivals hall, and will come with a car or minivan big enough for your group.
A private transfer is a convenient option to travel between Sevilla Airport and Sevilla. They do not charge extra for luggage and the fee is fixed, paid in advance when you make the booking. The driver will also help you with the luggage.
The fare for a transfer from the airport to the city centre will cost you around 30 euros for a private car or 60 euros for a minivan.
Click here to compare prices and options for private transfers from Sevilla Airport to Seville.
By Bus
If you are travelling on a budget or prefer to use the public transport, the EA bus connects Sevilla Airport with the city centre, via the AVE train station. The bus stop at the airport is located just outside the terminal. The bus has a long operating schedule, you can catch one every half an hour. They break between 1AM-5AM. From the city centre, the first bus of the day is at 4:30AM.
The bus stops at various places around the city, including the Avenue Carlos V (for Jardines del Prado), Paseo Colon (For Torre del Oro), and finishes in Plaza de Armas.
A one way journey by bus from Seville Airport to Seville city centre costs 4 euros, a return ticket is 6 euros. You can buy the ticket directly from the bus driver.
Hiring a Car?
Hiring a car at Seville airport is also convenient option if you want to explore the local area and beyond at your own pace. There are several car rental companies located at the airport, including well-known international brands and local providers.
In order to hire a car you need a valid driving licence and a credit card in your name with enough credit for the deposit. It is advisable to book your rental car in advance if you are travelling to Sevilla during popular times of the year. Being a small airport, the rental car offer is much smaller than at Malaga Airport for example, which has literally thousands of rental cars at any time of the year.
Hiring a car at Sevilla Airport costs around 15-20 euros a day, once you add all the extra insurances, which I highly recommend you take. I can't even count how many times I found my car bumped or scratched in the supermarket car park! However, you don't have to buy this insurance from the rental agency, as they will try to oversell it. I usually book my rental cars through Holiday Extras, which show me all the costs upfront. If a car is advertised at 2 euros a day, it will never be 2 euros a day! I also choose to buy the extra insurance through Holiday Extras as well, because it's a fraction of the price the rental agency would charge me. This means that I will have to pay the deposit for the car on my credit card, but if something happens, I will get it back and Holiday Extras will deal with the rental agency.
Click here to compare different prices for car hire at Sevilla Airport.
For more Airport travel guides, check out the articles below:
Liked it? Pin it!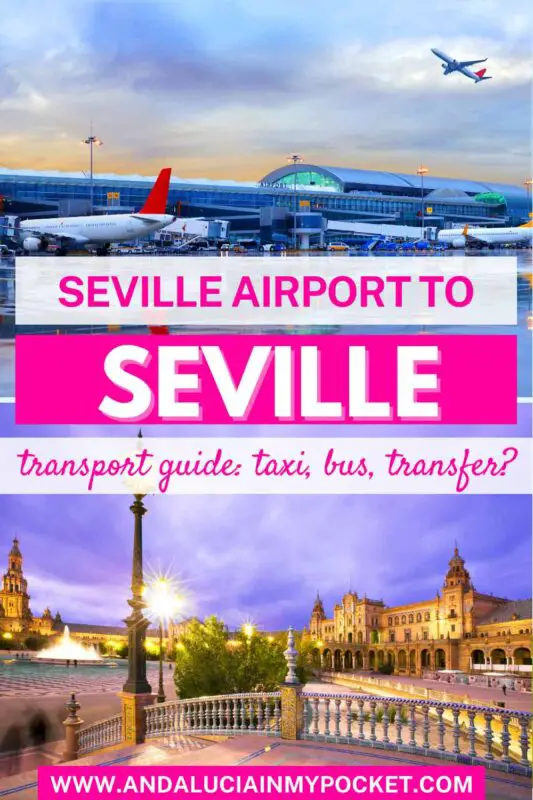 Disclaimer: Some of the links on this website are "affiliate links." This means that if you click on the link and do a purchase, I will receive an affiliate commission at no extra cost to you. This helps me keep my website running and continue to share my travelling knowledge with you. I thank you for booking your flights or hotels using the links on my website. Regardless, I only recommend products or services I use personally and believe will add value to my readers.