Malaga is the gateway to Costa del Sol, with most flights arriving at the local airport. Many people however choose to skip Malaga and travel straight to Granada, Sevilla, or Cordoba, hiring a car directly from the airport. Is Malaga worth visiting, you may ask yourself and indeed curious, if you've landed on this article. I can tell you, after living nearby for so many years, my answer is a firm yes, you shouldn't miss visiting Malaga. It is a small city, walkable, full of culture, with plenty of beaches, that can capture your heart in just a couple of days.
In this article I will tell you all the reasons why I love Malaga so much, reasons that I hope will make you decide to visit this beautiful city.
Is Malaga Worth visiting?
If you're considering a trip to southern Spain, don't overlook the vibrant city of Malaga. The city's rich cultural heritage, showcased through its historic sites, museums, and festivals, provides a fascinating glimpse into its past. Exploring the charming old town, indulging in delicious tapas, and experiencing the lively fiestas and traditional Easter processions are just a few of the unique cultural experiences that await visitors in Malaga.
Moreover, Malaga's pleasant climate, with over 300 days of sunshine a year, ensures that visitors can enjoy outdoor activities, relax on beautiful beaches, and taste that Mediterranean lifestyle throughout the year.
Malaga is absolutely worth visiting!
14 Amazing Reasons to Visit Malaga:
Malaga is Easily Accessible
Malaga has the largest airport in Andalucia, connecting Europe, North Africa, and North America through direct flights. The airport in Malaga is the third busiest in Spain, connecting 115 destinations around the world and receiving over 20 million passengers each year.
The airport in Malaga is only a short 10 minutes ride away from the city centre, making it one of the most accessible in the entire country. The ticket price for a one way journey is less than 2 euros as well. You can read more information about how to get from Malaga Airport to Malaga by clicking here.
Malaga is an Accessible City
During the past few years Malaga has invested a lot of money in accessible projects, transforming the city into a welcoming place for all visitors. The majority of museums, restaurants, all beaches, as well as most tourist attractions have been adapted for people with disabilities. The most important museums in Malaga such as Picasso Museo or the Carmen Thyssen Museum are running special tours for people with visual impairments and learning disabilities as well.
The beaches in Malaga have been adapted to be more accessible by people with reduced mobility as well. And not just in Malaga, but all along Costa del Sol. The entire province of Malaga has made an effort  adapting its attractions as well as the natural parks, developing accessible routes in the nearby mountains and in the Torcal de Antequera.
Malaga Has Plenty of Historical Sites
Another great reason which makes Malaga worth visiting is the city's great historical sites. Whilst in Granada it is imperative to book tickets to see the Alhambra three months in advance, in Malaga you can just turn up and buy tickets at the gate for the Alcazaba and the Gibralfaro castle. These are Moorish fortresses, same as the Alhambra, but are less crowded, offering a much more relaxed experience.
Dating back to the 11th century, the Alcazaba in Malaga proudly holds the title of Spain's best-preserved Moorish fortress. As a former palace-fortress for Muslim governors of the city, this architectural marvel once boasted an impressive 110 main towers during its zenith. What sets the Alcazaba of Malaga apart is its early origins, predating both the renowned Alhambra of Granada and the Alcazar of Seville by three centuries. Within its walls, you'll encounter a treasure trove of original features from the 11th century, including intricately carved wooden ceilings, graceful marble columns, and charming balconies that stand as a testament to the artistry of the era.
Strolling through the Alcazaba's courtyards, you'll be greeted by beautifully landscaped gardens adorned with fountains and fragrant orange trees. These meticulously maintained spaces provide a serene atmosphere, inviting you to immerse yourself in the tranquillity of the surroundings.
Perched majestically above the city, the Gibralfaro Castle was established in 929 AD by Abd-al-Rahman III, the Caliph of Cordoba. Although time has weathered the castle's structure, leaving behind only the remnants of a few buildings and two lines of sturdy walls, the reinterpretation centre offers a glimpse into the fortress's former grandeur.
You can buy a combined ticket to visit both the Alcazaba and the Gibralfaro Castle for 5.5 euros.
Another great place to visit in Malaga, at the foothills of the Alcazaba, is the Roman Theatre. Constructed in the first century BC, this remarkable edifice was discovered quite recently, during archaeological excavations in 1951. The admission to the site and the adjacent museum which hosts the artefacts found on the site, is free.
It Has Urban Beaches Walking Distance to the City
Malaga has two urban beaches, both at walking distance to the centre of the city. The closest beach is Malagueta, a wonderful, large, sandy bay where the locals enjoy the sunshine during the siesta or at the end of the day.
La Malagueta is the perfect beach to soak up the sun, especially if you have limited time in the city. Even during the high season, there is plenty of space to sunbathe on Malagueta beach due to its large size. While the sand may not be the finest on the Costa del Sol, La Malagueta holds its charm within a bay, making it an ideal choice for families with young ones. The water remains shallow and pleasantly warm, creating a safe haven for children to enjoy. This beach caters to every beachgoer's needs with its comprehensive facilities.
On the other side of the city lies Playa de la Misericordia, a smaller beach cherished mainly by locals. Although not as wide, it compensates with its considerable length and a delightful promenade lined with palm trees, accompanied by a cycling path. If you find yourself with more than one day in Malaga, this charming beach is the perfect choice.
For more information about the best beaches near Malaga click here.
The Dining Scene in Malaga is on Top
Food alone is a great reason why Malaga is worth visiting.
If there is one thing that you should know about the cuisine in Malaga, it is that the locals love the native local anchovy so much that they often call each other using its name: boqueron. And let me tell you, there is nothing more satisfying than spending a hot summer afternoon in a chiringuito on the beach, with your feet in the sand, enjoying the grilled boquerones alongside a refreshing pint of ice-cold Spanish beer, there are a few to choose from.
There are three different ways on how you can enjoy the boquerones. Firstly, the most popular one is grilled on the beach. The chiringuitos are no frills beach bars with plastic chairs and tables sat straight on the sand. Espetos are boquerones grilled over an open fire made from olive branches, usually inside an old boat. They are delicious and inexpensive!
The second way to eat this special anchovy is in tapas bars, as boquerones al limon. In this recipe, the boquerones are cleaned, marinated in lemon and garlic, before being passed through chickpea flour and deep fried in olive oil. Finally, the last recipe involves boquerones left to marinate in a mixture of lemon, vinegar and garlic, served raw alongside crusty bread. This is called boquerones al vinagre and I can guarantee you can't get enough of it.
Another speciality of Malaga is the fritura Malaguena. This is a selection of different fish and seafood deep fried in olive oil, served with aioli. It makes a great platter for sharing.
When you visit Malaga, you shouldn't miss having lunch one day in Mercato de Atrazanes. This buzzing market gets alive when the tapas and fish bars start grilling and frying fish, which is served at the counter or at one of the small tables adjacent to the building. Lunching here is a fantastic way to try the local food and also observe the vibrant atmosphere.  
Malaga is the Home of Pablo Picasso
Malaga is celebrating its most famous resident, Pablo Picasso, not through just one, but two different museums. The Picasso Museum displays a vast collection of his captivating works, showcased across two expansive floors. The museum has both a permanent exhibition and temporary collections that change throughout the year. During my own visit, I had the privilege of witnessing a captivating display of intimate letters and photographs discovered in Picasso's first wife, Olga Picasso's travel trunk, providing an interesting glimpse into their relationship.
The Picasso Museum is hosted inside a beautiful 16th century Andalucian Palace built in a Renaissance style with Mudejar influences.
The second museum dedicated to Picasso is the memorial house in which he was born in, in 1881, and lived for the first 10 years of his life. Here you can see a collection of photographs showing the family's way of life, as well as personal items from the artist's childhood. The house was restored to its original state in 1881, providing visitors with a glimpse into Picasso's childhood.
Malaga Has Incredible Museums
Throughout its rich history, Malaga has flourished as a city that embraces and nurtures artistic expression. Its natural beauty, cultural heritage, and thriving creative community have long served as a magnet for artists from all walks of life. From ancient times, when Phoenicians roamed these lands, to the modern era of Picasso, Malaga has been an inspiring haven for countless creative souls.
Among the city's artistic figures, the renowned Pablo Picasso holds a special place. As one of the most celebrated painters of the 20th century, he was not only born in Malaga but also deeply influenced by its essence. Yet, Picasso is not the sole artist to come from this vibrant city. Locals proudly claim Felix Revello de Toro, Maria Zambrano, Jorge Rando, and numerous other talented artists as their own.
Additionally, Malaga is home to the beloved actor Antonio Banderas, who not only graces the silver screen but also shares his passion for the city through his tapas restaurant, El Pimpi, in the heart of the city. You may even catch a glimpse of Banderas at local events, like the lighting ceremony of the Christmas lights, which is a great reason to visit Malaga in winter.
You can read more about the museums in Malaga here.
Sunshine is Almost Guaranteed
Malaga is blessed with over 300 sunny days a year. Even if you visit Malaga in winter, you have great chances to experience sunny days and mild temperatures, making the city a perfect destination year round.
Malaga is surrounded by mountains which help the city breathe during the hot summer months. The gentle breeze never lets Malaga get too hot, compared with the other resort towns on Costa del Sol. The same mountains protect the city in winter, which means that you will always find mild temperatures here even in the middle of the cold season.
Malaga is the perfect destination for winter sun, and that is a reason in itself to visit.
Malaga is a Walkable City
Another great reason why Malaga is worth visiting is the size of the city. Malaga is a walkable city, with most of the tourist attractions within walking distance from each other. Even the main beach, Malagueta, is no more than 20 minutes walk away from the Cathedral, in the heart of the city.
The historic centre of Malaga is also closed to car traffic, which makes it much more pleasurable to explore.
Malaga is an Affordable City
Malaga is a very affordable travel destination. Firstly, there are plenty of accommodation options in the city centre, starting at only 30 euros a night for a room with a private bathroom in a shared apartment. The city offers plenty of budget friendly hotels, guesthouses, and apartments.
Because Malaga is a walkable city, you won't need to spend money on public transport, unless you choose your accommodation outside of the historical centre.
When it comes to dining, Malaga offers an array of affordable restaurants and tapas bars. From the famous 100 Montaditos, where you can buy tapas for one euro and a bucket of beers for 5 euros to the inexpensive chiringuitos on the beach, there are plenty of great options in Malaga.
Malaga also provides plenty of free or low-cost attractions and activities. The entrance to most of the touristic attractions in the city is less than 5 euros. Exploring the charming streets, visiting the local market, and strolling along the picturesque promenade don't cost anything.
There are Plenty of Free Things to Do in Malaga
A great thing about Malaga is that there are plenty of free things to do in the city. Most of the museums in the city also offer free admission on certain days of the week, usually on Sunday afternoons.
Some of the free admission museums in Malaga are: the Malaga Museum, the Contemporary Art Centre, the Roman Theatre, and the botanical garden. The Alcazaba, the Gibralfaro Castle, the Picasso Museum, the Carmen Thyssen Museum, the Centre Pompidou, all offer free admission on Sundays.
For more information about free things to do in Malaga click here.
The Fiestas in Malaga are Epic
Malaga is a city that I never got bored of. There is always something going on, be it the nightlife which goes until the early hours of the morning, the fiestas, the Easter processions, or the yearly carnival which gets everyone out partying on the streets.
I've always said that Malaga never sleeps. It's buzzing during the day, and it's more alive than ever during the night. The city's historic centre, particularly around Plaza de la Merced and Calle Larios, is a hub of activity with numerous bars and restaurants that stay open late into the night. Here, you can enjoy a relaxing drink, socialise with locals and fellow travellers, and soak up the lively atmosphere of the city. For night owls, there are a few clubs in Malaga as well which stay open until the early hours of the morning.
Malaga is also renowned for its lively fiestas and traditional celebrations throughout the year. One of the most iconic events is the Easter procession, Semana Santa, which takes place in the week leading up to Easter. This deeply rooted religious celebration features impressive processions of ornate floats carried through the streets, accompanied by solemn music and the scent of incense. Thousands of locals and visitors gather to witness these solemn and visually stunning processions. For more information about this, you can read my article about visiting Malaga during Easter time here.
Another highlight of the Malaga festivities is the Carnival, held at the end of February. This vibrant and colourful event transforms the city into a large party, with parades, costumes, music, and dancing filling the streets.
Throughout the year, Malaga hosts various fiestas and cultural events that celebrate local traditions, music, and gastronomy. These festivities often include live music performances, traditional dances, and gastronomic fairs where you can savour delicious regional specialties.
There's Golf
Known as the "Costa del Golf," the area surrounding Malaga offers over 70 golf courses, making it one of Europe's premier golf destinations. From championship courses to hidden gems, golfers are spoiled for choice when it comes to selecting a course that suits their preferences.
The region's golf courses are renowned for their exceptional design and maintenance. Many have been designed by internationally acclaimed architects, offering a mix of parkland-style and links courses that cater to different playing styles.
The best time to play golf on Costa del Sol is winter, when the temperatures are pleasant and allow you to walk the course rather than take a buggy. The closest golf course to Malaga is Parador, which also has a luxury hotel with a spa and outdoor swimming pool.
You Can Easily Go on a Day Trip Nearby
Malaga also serves as an excellent base to explore diverse attractions and the natural beauty of the surrounding region. It is very easy and cheap to hire a car at Malaga airport, and then explore the region, further inland or along the coast.
There are plenty of fantastic day trips from Malaga which you can do either by public transport, or by car. My favourite day trip destination is Mijas Pueblo, located 20 kilometres down the road from Malaga. There are also a lot of things to do in Mijas Pueblo, from sightseeing, enjoying the local cuisine, to hiking Pico de Mijas, a wonderful challenge which I highly recommend.
Other destinations easy accessible from Malaga are Antequera, with its beautiful Torcal, Ronda, Nerja with its fascinating cave system, and, for something rather unique, Gibraltar.
To Summarise, is Malaga Worth Visiting?
A big yes! I love Malaga and even as a local living in nearby Fuengirola, I often travel to Malaga for a night out, for tapas, or just to stroll around the city.
This vibrant city in the heart of the Costa del Sol offers a perfect blend of history, culture, natural beauty, and warm Mediterranean charm. From its iconic landmarks such as the Alcazaba and the Picasso Museum to its stunning beaches and lively nightlife, Malaga has something to offer every visitor.
With its welcoming atmosphere, friendly locals, and a plethora of things to see and do, Malaga truly captures the essence of the Andalucian spirit.
Liked it? Pin it!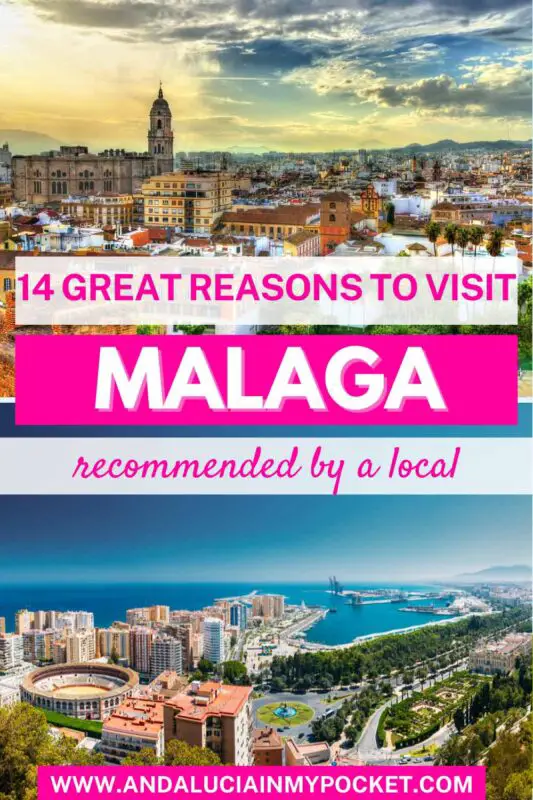 Disclaimer: Some of the links on this website are "affiliate links." This means that if you click on the link and do a purchase, I will receive an affiliate commission at no extra cost to you. This helps me keep my website running and continue to share my travelling knowledge with you. I thank you for booking your flights or hotels using the links on my website. Regardless, I only recommend products or services I use personally and believe will add value to my readers.