I have always loved Granada, from my first visit to the city, made years before I decided to move to Andalucia. In my opinion, the only answer to the is Granada worth visiting question is a big yes. There are so many reasons which make me love this city, from the incredible architecture and Moorish monuments to the vibrant atmosphere that you can find day and night. I often stumbled upon impromptu street parties in Plaza de Santa Ana, or free flamenco performances at Mirador San Nicolas. Granada, even if it's a very old city, has an extremely young spirit, which I always find on its streets.  
Is Granada Worth Visiting?
A question that many people are asking themselves, when planning a trip to Andalucia. And I don't blame you, as there are so many amazing places to visit in the South of Spain. In this article I want to tell you my compelling reasons for why Granada is worth visiting. And once you finish reading, I think you will be able to make up your mind much easier, if you want to visit Granada and experience its magic.
Getting to Granada is Very Easy
Getting to Granada is convenient and accessible through various transportation options.
By plane: The city has its own airport, operating flights from numerous European destinations, making air travel a straightforward choice. However, it is worth noting that flying to Malaga can often be more affordable, and from there, buses connect the airport and the main bus station in Granada. A one-way ticket from Malaga to Granada typically costs around 12-15 euros, and reservations can be made on the Alsa website.
By train: Granada is also well-connected by train, with the high-speed rail linking the city to major hubs like Madrid and Barcelona. From Madrid, the cheapest ticket starts at 35 euros, while from Barcelona, it is around 60 euros. Tickets can be booked directly on the Renfe website, offering a convenient and efficient way to reach Granada.
By bus: For travellers preferring bus travel, Granada boasts excellent connections to major destinations across Spain. While bus fares are generally more economical compared to trains, the travel times can be longer. Nonetheless, this option provides a budget-friendly alternative for those exploring the country extensively.
By car: Renting a car is a viable choice, particularly for exploring the broader region of Andalucia. However, it's important to note that driving within the historic center of Granada is prohibited, and access by car is only permitted for guests staying at designated hotels within the restricted area. Many hotels offer underground parking facilities, albeit at an additional cost of at least 15 euros per day.
Why is Granada Worth Visiting?  
Granada is Home to the Majestic Alhambra
Alhambra is the most visited monument in Spain, with tickets constantly getting sold out three months ahead. It is an incredible monument which attracts millions on tourists every year to Granada. Alhambra alone is a massive reason on why you should visit Granada. I still remember the first time I visited this incredible Palace, spending half a day exploring the grounds and gardens. It is truly as beautiful as you imagine it to be.
The Alhambra's history dates back to the 9th century when it was initially constructed as a small fortress. Over the centuries, it evolved and expanded, eventually becoming the splendid palace complex we witness today. The Nasrid Dynasty, the last Muslim dynasty in Spain, left an indelible mark on the Alhambra, decorating it with breathtaking Islamic architecture and intricate carvings.
Unfortunately, the Alhambra has been left in disrepair after the Spanish Reconquista, suffering a long period of neglect and deterioration. It was the American writer Washington Irwing who put the fortress back on the touristic map, through his novel "Tales of the Alhambra", in the 19th century. This led to the local council to begin the conservation process and protection of the monument. Whilst all the original furniture and art decorations are gone, the Alhambra has been resurrected from the ashes of neglect to a monument that will live forever.
Stepping into the Alhambra is like a walk back in time. The palace features beautiful tilework and ceiling stucco carvings, lush gardens, and tranquil courtyards. The Court of the Lions, with its central fountain and surrounding columns welcomes visitors to discover the once lavish way of life of the Nasrid rules.
You can book a ticket to the Alhambra by clicking here. Make sure to book in advance, as the tickets sell out very fast.
And to Generalife – Spain's Best Preserved Moorish Garden
The Generalife Gardens, which were built in the 13th century, were the exclusive retreat of the Nasrid rulers of Granada, offering respite from the demands of courtly life. The gardens, designed as an earthly paradise, served as a sanctuary where the rulers could immerse themselves in nature's embrace, finding solace amidst the verdant surroundings.
The heritage of the Generalife Gardens lies in their remarkable fusion of Islamic and Moorish design principles with elements of Mediterranean aesthetics. The gardens feature a harmonious blend of terraces, courtyards, fountains, and meticulously maintained vegetation. Water, a symbol of life and purity, flows gracefully through the gardens, imparting a sense of serenity. The way the gardens are landscaped is specific to the Nasrid Dynasty representing a sensory journey of sights, sounds, and scents.
While other Nasrid gardens have succumbed to the passage of time or human interventions, the Generalife Gardens have been preserved, allowing us to appreciate their original grandeur. Even with the modifications that the Christians have done to the Gardens, after the Reconquista, Generalife maintains most of its original architecture.  
You can click here to book a ticket to Generalife. Whilst Generalife is included in the ticket for the Alhambra, if you miss out on those, you can still see the gardens separately.
Granada Has an Incredible Heritage and History
Granada was inhabited since around 5500BC, but little is known about the city's history, before the 11th century. It's years of glory came with the arrival of the Moors, who transformed the modest settlement into a vital stronghold with an intricate architecture which acted both as defence and of a wonderful place to live in. Under Moorish rule, Granada blossomed into a thriving centre of art, science, and intellectual pursuits, leaving an enduring imprint on its architecture, language, and culture.
The zenith of Granada's Moorish era arrived with the establishment of the Nasrid Dynasty, whose reign stretched over two centuries, from the 13th to the 15th century. It was during this period that the Alhambra reached its pinnacle of splendour, becoming a symbol of the city's opulence and refinement. The Nasrid rulers fostered an environment of religious and cultural tolerance, attracting scholars, poets, and artists from far and wide.
However, the Moorish reign came to an end with the Reconquista, the Catholic reconquest of Spain, led by the Catholic Monarchs, Ferdinand and Isabella of Castilla. In 1492, Granada fell to Christian forces, marking a significant turning point in the city's history. The Catholic Monarchs aimed to consolidate their power and assert their Catholic faith, leading to the expulsion of the Moors and Jews from Granada, thus altering the city's demographic landscape.
Under Christian rule, Granada experienced a cultural and architectural transformation. Gothic, Renaissance, and Baroque influences left their imprint on the city's structures, blending with the remnants of Moorish architecture. The grand cathedral, built on the site of the Great Mosque, serves as a testament to this amalgamation of architectural styles.
Despite the change in rulers, Granada retained its cultural vibrancy. The city became a hub of intellectual and artistic exchange during the Spanish Golden Age, producing renowned writers such as Federico García Lorca. Their works, infused with the essence of Granada, reflected the city's enduring spirit.
Today, Granada stands as a captivating blend of its storied past and its modern aspirations. Its UNESCO World Heritage sites, including the Alhambra, the Albayzín neighbourhood, and the Sacromonte district, offer a glimpse into its multicultural heritage. The Albayzín, with its narrow winding streets and whitewashed houses, showcases the Moorish influence, while the Sacromonte preserves the legacy of the city's Roma (gypsy) community.
Granada Has a Unesco White Washed Neighbourhood
Albayzín is one of Granada's most fascinating neighbourhoods. It is so beautiful and has such a cultural important that Unesco added it on its heritage sites list in 1984. Built on the hill that faces the Alhambra, Albayzín is a maze of narrow alleys leading steeply uphill, through white-washed buildings, and small plazas with hidden viewpoints.
The roots of Albayzín trace back to the Nasrid dynasty. It flourished as a vibrant community, reflecting the cultural, religious, and architectural legacy of the Al-Andalus Empire. Today, Albayzín serves as a living museum, preserving the spirit of Moorish Granada and offering a glimpse into a bygone era.
One notable feature of Albayzín's architecture is the towering walls that surround the houses, concealing the interiors within from the prying eyes of the outside world. These tall walls serve multiple purposes. Firstly, they provide privacy to the residents, allowing them to maintain their intimate family spaces shielded from the public gaze. Secondly, they offer respite from the scorching Andalusian sun, keeping the interiors cool and comfortable, as well as protecting them from the winds that whip through the narrow streets.
Another intriguing aspect of Albayzín's architecture is the presence of interior gardens with balconies facing inward towards the private spaces rather than the streets. These interior gardens, often decorated with vibrant flowers, citrus trees, and water fountains, created once an oasis of tranquillity amidst the bustling neighbourhood. The balconies, with their intricate wrought iron railings, serve as extensions of the living spaces.
The purpose behind this unique architectural arrangement lies in the Islamic tradition of creating private sanctuaries within the home. The interior gardens and balconies foster a sense of serenity and seclusion, allowing families to connect and communicate much better with each other, in an intimate, natural environment. Back in the day, the houses were shared between different members on the family, with multiple generations living under the same roof.
There are a few houses that have been transformed into museums, which you can visit to get a sense of how they look inside: Carmen de los Geranios, Palacio Dar al-Horra, Casa de Zafra, Casa del Chapiz. You can also book a guided tour of Albayzin and Sacromote, which includes some museums as well, by clicking here.
And There's An Entire Cave Neighbourhood
Sacromonte is the most peculiar area in Granada. Back in the 16th century, the Spanish Gitanos, also known as the Roma, made their way to Granada, feeling persecution. Because of their skills in making pans and pots, they were given a piece of land outside of the walls of the city, where the administrative laws didn't apply. It is not really known how the community decided to dig into the rocks and make their homes inside the unique caves created.
Today, Sacromonte is a very popular place for flamenco performances and dinners in an unique environment: the caves.
Some residents open their homes to visitors, in return for a mere 1 euro.  Whilst the interiors are modest and rustic, with vibrant rugs and cushions covering the floors and walls, the caves have electricity and modern appliances such as fridges, washing machines and dishwashers. The advantage of living in a cave is that the temperature remains constant year round, so you don't need air conditioning in summer or heating in winter.
Granada is a Walkable City
Granada is renowned as a walkable city, allowing visitors to conveniently explore its touristic attractions on foot. The city's compact size and well-preserved historic centre make it easy to navigate and discover its touristic attractions.
For instance, the iconic Alhambra, a UNESCO World Heritage site, is just a pleasant 20-minute walk from the city centre. The Albaicín neighbourhood, with its winding streets and stunning views, is within walking distance from the Alhambra, offering visitors a chance to experience the Moorish charm of Granada.
The Cathedral and Royal Chapel, located in the heart of the city, are a short stroll away from the bustling shopping district, making it effortless to combine sightseeing with a bit of retail therapy. With the majority of Granada's main attractions within close proximity of each other, exploring the city on foot allows visitors to soak in its rich history, architectural wonders, and vibrant ambiance at their own pace. This is another great reason why Granada is worth visiting.
There is Free Tapas
Granada is one of the very few places in Spain where you will still receive a free tapa every time you order a drink. The more drinks you order, the better the tapas are. Usually they start small, with a slice of bread topped with jamon or Manchego cheese. As the drinks keep flowing, the tapas evolve to fried fish, stews such as carillada or rabo de toro, or gambas pil pil.
Don't think that because you get free food with your drink, the prices of the beer or wine are high. On the contrary – a Tinto de Verano or a glass of wine usually cost no more than 2 euro a glass, whilst a beer no more than 3 euros.
For more information about what to eat in Granada, click here.
There Are Plenty of Restaurants with a View
Granada is no shy of great restaurants that serve delicious dishes whilst enchanting their dinners with views over the Alhambra. Among these establishments is Mirador de Morayma, a renowned restaurant hidden on an alley in the Albayzín neighborhood. Situated on a hillside, Mirador de Morayma provides panoramic vistas of the Alhambra and the cityscape of Granada. The restaurant specialises in traditional Andalusian cuisine, showcasing regional flavours and ingredients.
Another noteworthy restaurant with a view in Granada is BHeaven. Perched atop the Hotel Carmen, BHeaven offers a rooftop dining experience that captivates diners with its magnificent vistas. With the Alhambra as its centerpiece, the restaurant provides a sweeping panorama of the city's historic quarter and the Sierra Nevada mountains. Here, guests can relish a menu that combines Mediterranean and international flavours, accompanied by a great selection of wines.
There are Hiking Trails Half An Hour Away from the City Centre
Because of how close Granada is to Sierra Nevada mountains, there are plenty of easy accessible trails only half an hour away from the centre of the city. One of the most popular trails is Ruta Los Cahorros, a route that showcases the best the natural park has to offer: cliffs, a path through the forest alongside the Monachil river, waterfalls, a canyon, hanging bridges, and wild goats. Los Cahorros is an easy route, suitable for most fitness levels.
For more advanced hikers, consider attempting hiking Mulhacen, the highest peak in Sierra Nevada and in continental Spain. For this route you will usually need two full days, and also a permit which you can apply for online.
You Can Ski in Winter
If you are visiting Granada in winter, you must try skiing in the Southernmost ski resort of Europe.
The Sierra Nevada Ski Resort, situated just a short distance from Granada, offers excellent snow conditions and a range of slopes suitable for all levels of skiers and snowboarders. If you are a newbie, you can book your first lesson here as well, because there are beginner slopes as well.
 With a convenient distance of approximately 30 kilometres from Granada, it's possible to embark on a day trip to the ski resort and return to the city in the evening. The resort boasts a modern infrastructure, including ski lifts and well-groomed pistes, ensuring a smooth and enjoyable skiing experience. From beginners to seasoned experts, the Sierra Nevada mountains provide a picturesque backdrop for winter sports enthusiasts to indulge in their passion while conveniently staying in Granada.
And Sunbathe on the Beach in Summer
Not many people know that Granada has its own coast at the Alboran Sea, known as Costa Tropical. Driving to the beautiful towns of Salobrena and Almunecar doesn't take longer than 45 minutes, with plenty of bus connections as well.
There are plenty of beautiful towns on Costa Tropical which offer stunning sandy beaches and crystal-clear waters. Here you can also go snorkelling or kayaking on the open sea, hiking on top of the cliffs, or even jump on a boat and go on an adventure to spot dolphins.
When the temperatures become unbearable in Granada, in the middle of summer, Costa Tropical is a great choice for a relaxing seaside escape.
Flamenco in Granada is Performed in Caves
Another great reason to visit Granada is to attend an authentic flamenco performance. Flamenco was born in Granada, and it is one of the most incredible complex art forms in Spain. Flamenco is not just music, it's a combination of sounds, movements, voices, and moreover, a lot of emotion.
The Sacromonte neighbourhood, renowned for its cave dwellings, is home to the most popular flamenco shows in Granada. Many of these shows even include transportation from the city centre, making it convenient for visitors.
A highly recommended choice is Jardines de Zoraya, where you can enjoy a flamenco show accompanied by a delicious dinner. With two shows daily, this venue presents five talented artists performing traditional flamenco styles for an hour. Booking your tickets in advance increases your chances of securing a front-row table, ensuring an up-close and captivating experience.
Another captivating option is Cueva de la Rocio, operated by a family deeply rooted in the flamenco art. The shows take place inside a cave, with attendees seated on either side of the stage. This intimate setting provides an unparalleled proximity to the performers. The show begins with a captivating representation of a "Gitano wedding" and later evolves into a more modern interpretation of flamenco.
For a unique and off-the-beaten-track experience, consider attending a flamenco performance at the Palacio de los Olvidados, located in the heart of Albayzín. By day, this 16th-century building serves as a museum, but it transforms into an intimate performance space by night. This alternative setting adds an enchanting ambiance to the flamenco experience.
To help you explore the various flamenco options in Granada, here are my recommendations:
Jardines de Zoraya: Combines dinner with a flamenco show, offering two shows daily. Book in advance for better seating options. Book here.
Cueva de la Rocio: Enjoy a performance inside a cave, providing an authentic and intimate flamenco experience. Book here.
Palacio de los Olvidados: Discover flamenco in a unique setting within the historic Albayzín district. Book here.
Granada is an Affordable City
Granada stands out as an affordable city due to several factors. Firstly, accommodation options in Granada are relatively budget-friendly, with a range of hostels, guesthouses, and affordable hotels available.
Additionally, the city offers a variety of affordable dining options, including tapas bars where complimentary tapas are served with every drink order. Public transportation within the city is reasonably priced, and many of Granada's attractions, offer free admission on certain days.
Lastly, Granada's vibrant street life and cultural activities provide numerous low-cost or free entertainment options for visitors to enjoy.
There Are Plenty of Free Things to do in Granada
Granada offers plenty of free activities and attractions that allow visitors to explore the city without breaking the bank. Whilst the entry to the Alhambra requires a ticket, visitors can still enjoy the Alhambra's exterior and the surrounding grounds, free of charge.
Most of the gardens in Granada are free of charge as well. They are Moorish inspired landscaped gardens, which are great for a short break, especially when it's too hot to walk in Granada.
Another very interesting little museum that it's free of charge is on Carrerra del Darro. The Patio de los Perfumes has an underground museum dedicated to perfumes, from the ancient times to the current days.
You can Relax at An Authentic Hammam
After exploring the city on foot, treat yourself to a rejuvenating experience and a relaxing massage. Hammam Al Andalus is a traditional Moorish bath that promises a luxurious and authentic relaxation experience. The baths have been meticulously constructed in accordance with Arabic architectural principles, replicating the ambiance of the historic public baths once so popular within the Alhambra Palace.
Indulge in a two-hour session at Hammam Al Andalus, where you can choose from various packages tailored to your preferences. Each session typically includes a kessa treatment, featuring a gentle foam scrub and a soothing massage on a heated stone bed. Immerse yourself in the tranquil surroundings and let the therapeutic benefits of this traditional bath take effect. If you want to visit the hammam you must book in advance because, to keep the space intimate and quiet, only a limited number of people are allowed in every hour. You can click here to book a package.
You Can Shop in a Souk
If you thought that souks exist only in the Arabian world, you are wrong. Granada has its own mini souk which reminded me of a little part of Marrakech in Spain.
The Alcaicería of Granada embodies the essence of a Moroccan-style bazaar, featuring narrow alleys lined with shops proudly displaying their merchandise outdoors. Within this bustling marketplace, visitors can explore a diverse array of offerings. From fragrant teas and aromatic spices to an assortment of scarves, dresses, shoes, purses, jewellery, Moroccan lamps, and souvenirs, there is something for everyone.
One of the highlights of the Alcaicería is its selection of spices. Here, you can buy coveted ingredients like Spanish saffron, both spicy and sweet pimentón (Spanish paprika), the traditional pinchitos marinade composed of over 20 different herbs, paella mix, turmeric, and cumin. The tantalizing scents wafting through the air will guide you to the spice shops, where you can immerse yourself in a sensory experience that captures the essence of the marketplace.
Granada Has Teterias
You may wonder what a Teteria is. Well, Teterias are establishments that embrace the Moroccan tea culture and provide a cosy atmosphere for relaxation and socializing. These teahouses often feature traditional Moroccan décor, including vibrant tapestries, with walls covered with pretty tiles, and comfortable seating areas decorated with colourful cushions.
Teterias are great places to sit down and take a break whilst visiting Granada, indulging in a glass of Moroccan mint tea and a plate of typical Arabic sweets. The tea is traditionally poured from a decorative teapot into small, delicate glasses.
There are Plenty of Fiestas in Granada
If you are not convinced already, how about attending a fiesta in Granada as a reason to visit the city?
Throughout the year, Granada hosts a vibrant array of fiestas and special days, providing visitors with unique cultural experiences. One of the most famous celebrations is the Corpus Christi festival, held in June, where the streets of Granada come alive with colourful processions, flower carpets, and traditional music. This religious event showcases the city's deep-rooted traditions and is a sight to behold.
Another notable celebration is the Festival of San Cecilio, the patron saint of Granada, observed on February 1st. This day is marked with religious ceremonies, processions, and various cultural activities that pay homage to the city's heritage.
In addition to these major events, Granada embraces a rich calendar of festivities and special days. The Semana Santa (Holy Week) is celebrated with great fervour, featuring solemn processions and religious rituals. The Feria de Granada, held in June, is a lively fair where locals and visitors come together to enjoy flamenco music, dances, and traditional cuisine. The Noche en Blanco (White Night) is an annual event that transforms the city into an open-air cultural showcase, with museums, art galleries, and historical sites staying open late into the night.
You Can Easily Go on A Day Trip Nearby
Granada serves as an excellent base for day trips, with its strategic location offering easy access to various captivating destinations. One popular excursion is a day trip to Cordoba, located approximately two hours away by train. Cordoba is renowned for its UNESCO-listed historic center, featuring the mesmerizing Mezquita, a magnificent mosque-cathedral with a fascinating blend of Islamic and Christian architecture. Strolling through the winding streets of Cordoba's Jewish Quarter and exploring its picturesque patios are also highly recommended.
Another worthwhile day trip from Granada is to the magical city of Guadix, famous for its unique cave dwellings and rich history. The city's most notable feature is its troglodyte neighbourhood, where homes and buildings are carved into the soft clay hillsides, creating a remarkable underground community. Exploring the cave houses in Guadix, known as "cuevas," provides a glimpse into the traditional way of life and offers a fascinating perspective on the local culture. With its picturesque streets, historic sites, and the stunning backdrop of the Sierra Nevada mountains, Guadix is a pretty unique place to visit.
Furthermore, nature enthusiasts can embark on a day trip to Sierra Nevada, the highest mountain range in continental Spain, located just a short distance from Granada. This vast natural playground offers opportunities for hiking, skiing, and admiring the spectacular landscapes. With its accessible proximity, Granada serves as an ideal starting point for exploring the beauty of Sierra Nevada's snow-capped peaks, verdant valleys, and pristine lakes.
To Summarise: Is Granada Worth Visiting?
A big yes! Granada stands as an alluring destination that seamlessly blends history, culture, and natural beauty. From the majestic Alhambra Palace, an architectural marvel that transports you to the past, to the vibrant neighbourhoods of Albayzín and Sacromonte, where the spirit of Andalucia comes alive, Granada offers so many fantastic experiences. Whether you're indulging in the flavours of free tapas, immersing yourself in the passionate rhythms of flamenco, or exploring the nearby Sierra Nevada mountains or the stunning coast, this city has something for everyone. With its warm hospitality, affordability, and attractions that will leave you awe-inspired, Granada invites you to embark on a journey where history, culture, and natural wonders converge, creating memories that will linger long after your visit. So, pack your bags and let Granada captivate your soul.
For more similar articles, check out my recommendations below:
Liked it? Pin it!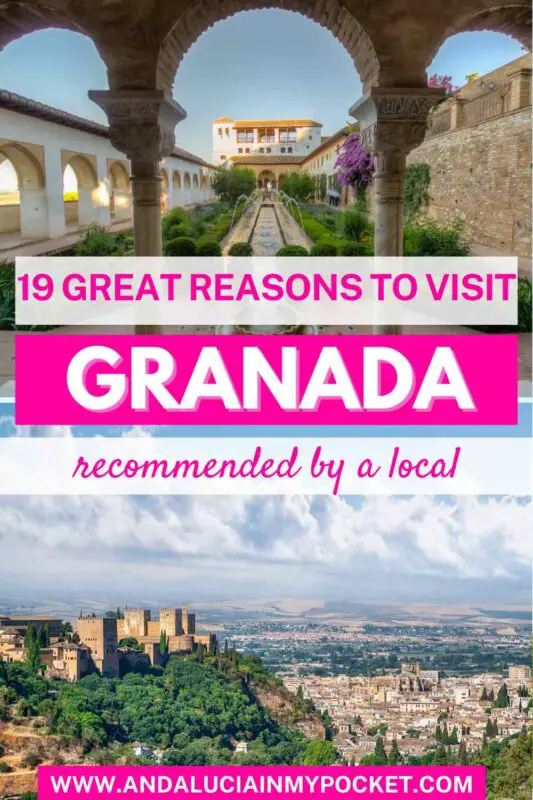 Disclaimer: Some of the links on this website are "affiliate links." This means that if you click on the link and do a purchase, I will receive an affiliate commission at no extra cost to you. This helps me keep my website running and continue to share my travelling knowledge with you. I thank you for booking your flights or hotels using the links on my website. Regardless, I only recommend products or services I use personally and believe will add value to my readers.